Washable Garments Labels for Industrial & Institutional Laundries
In addition to premium quality manufacturing, at Dal-Bac Manufacturing Co., Inc., we offer innovative and creative solutions for using the best materials, design, and processes—as evidenced in the project illustrated here. To serve customers in the industrial & institutional laundry and uniform services, we developed a simple and reliable means to help identify garments. Our capabilities and experience in processes such as thermal fusing made us uniquely qualified to take on this project.
The identification of garments is vitally important for industries that rely on uniforms. To that end, we developed a line of garment labels under our Thermadata brand. Our labels feature uncompromising strength and multiple colors for easy identification. We began the process of fabrication with durable, 100% polyester tackle twill in a number of highly distinguishable colors. We then fuse high-performance thermoplastic urethane (TPU) film to one side of the fabric in a flat-bed belt laminator with targeted heat and pressure settings. Bulk rolls of the tackle twill/TPU combination are then converted to narrow-width rolls with a razor slitter, with the TPU backing keeping the fabric from fraying throughout the slitting process. The rolls are then passed through our 4" or 6" rotary die, cutting labels in a variety of sizes. Each die is engraved to provide a through cut around each label and perforation to keep the labels in their original rolls. The perforation also keeps the labels attached to the roll matrix, which is also cut with feed holes on both sides of the roll length. We took special care to ensure that the perforation frequencies were appropriate to keep the labels in rolls for processing, but ultimately removable without excessive difficulty.
This process also lent itself to a pair of side projects. We converted old dot-matrix printers to feed these rolls and print directly onto labels, allowing the labels to be imaged with all appropriate information needed. In the other case, we teamed with a local machine shop to manufacture custom label heat-seal equipment. Both of these projects demonstrated our versatility and commitment to achieving overall value.
Our labels are the result of multiple capabilities and some of the industry's most advanced equipment. We serve all varieties of laundries and uniform supply services with these rugged and easy-to-identify labels. For more information about this project, please see the details in the following table, or contact us directly.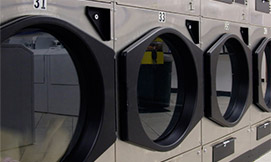 Washable Garments Labels Project Highlights
Project Description
Garments labels
Capabilities Applied/Processes
Primary:
Thermal Fusing
Secondary:
Slitting
Rotary Die-Cutting
Equipment Used to Manufacture Part
Belt laminator, razor slitter, rotary die-cutting press
Overall Part Dimensions
From 0.5" x 2.5" to 1.00" x 3.25"
Tightest Tolerances
Die cutting dimensional tolerance: + or - .005"
Material Used
1. 100% polyester tackle twill
2. .003" TPU film
Industry for Use
Industrial & institutional laundries and uniform services
In Process Testing/Inspection Performed
Bond strength verification
Delivery/Turnaround Time
3 weeks
Delivery Location
Continental US
Standards Met
Machine washability