Plush Knit Fabric Component for a Fitness Training Device
Customers from a wide range of industries rely on us at Dal-Bac Manufacturing Co., Inc. to provide solutions for their most difficult challenges in substrate adhesion. Our work with the application of pressure-sensitive adhesives to problematic substrates was the basis of the project illustrated here. A customer in the sporting goods industry contacted us to help them bond a surface pad to one of their products, a process which posed a number of difficulties.
Our client manufactured a fitness training device that utilized compressible foam for strength training; the end user would squeeze the foam repeatedly, and its resistance would develop strength and muscle tone. The problem was that the foam was rough in texture, creating the potential for skin irritation. What was needed to solve this problem was to attach a safe, skin-comfortable material to the foam's surface. Our customer found a plush knit, nylon fabric with antimicrobial treatment that fit the bill; however, attaching it to the surface proved to be difficult. The foam was a contoured piece that was meant to match the body. Our customer found it nearly impossible to get a strong adhesive to bond with the contoured surface and the new fabric simultaneously.
This prompted our client to call upon our services, as they felt that the solution could lie in a pressure sensitive adhesive, one of our specialties. We consulted with our suppliers and performed numerous tests for this project, and found that a pressure sensitive adhesive would not provide an adequate bond by itself. The primary difficulty was anchorage of the adhesive to the plush knit fabric. A dual adhesive approach was attempted instead. We used 0.002" of general purpose acrylic adhesive for the foam side and fusible fabric web adhesive for the fabric side. Using a 60 lb. lay-flat paper liner, we transfer-coated the pressure sensitive adhesive to the secondary adhesive, the result of which was fused to the back of the plush fabric. We followed this by slitting the composite to fit a rotary die cutting press and die cut the custom shape to fit their product. A back slit liner enabled installers to remove half of the release paper, allowing accurate positioning of the pads onto the foam.
The final product was attractive, comfortable, and sturdy; the skin contact pad could not be removed without tearing the foam. We were able to complete this project with a turnaround time of just three weeks, finishing in time for our customer to meet their spiking production requirements. For further details on this project, please see the table below or contact us directly to find out how we can put our capabilities to work for your next project.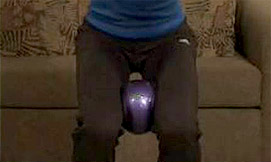 Plush Knit Fabric Component Project Highlights
Project Description
Fitness product component
Capabilities Applied/Processes
Primary:
Knife Over Roll Coating
Secondary:
Thermal Fusing
Slitting
Rotary Die-Cutting
Equipment Used to Manufacture Part
Knife over roll coater, belt laminator, razor slitter, rotary die-cutting press
Overall Part Dimensions
8" x 2.75"
Tightest Tolerances
Coating: ±10% adhesive coat weight; residual solvent <0.5%
Die cutting dimensional tolerance: + or - .005"
Material Used
1. Plush knit nylon fabric – antimicrobial treatment
2. Solvent based acrylic pressure sensitive adhesive
3. Fusible fabric adhesive film
Industry for Use
Sporting Goods
In Process Testing/Inspection Performed
Adhesive Coat Weight Verification
Residual Solvents Testing
Delivery/Turnaround Time
3 weeks
Delivery Location
North Texas
Standards Met
Maximum Allowable Residual Solvents
Microbe/Bacteria Resistance