Since our founding in 1973, Dal-Bac Manufacturing Co., Inc. has grown and expanded to become an important niche coater of solvent based pressure sensitive adhesives to customers in a diverse range of industries. While we sometimes employ meyer rod metering and apply alternate coatings (like anti-fog solutions), both water-borne and solvent based, directly and transferred, our core coating strength is the application of solvent based pressure sensitive adhesives. We transfer coat these to a wide variety of substrates, including fabrics, films, foams, and papers in widths up to 61". With our custom built equipment, we process materials accurately and cost-effectively.
Our robust production capabilities allow us to consistently and reliably meet a broad range of coating requirements. Our technical managers ensure the substrate and coating are compatible and are the best possible materials for the job. We engineer our process to deliver a uniform coating in a precise layer from .001" to .005" in thickness and can even offer them in a linear patterned (wet, dry, wet, dry, etc.) form.
One of the most common applications we handle is the creation of custom pressure sensitive adhesive tapes. By applying adhesives to specialized consigned substrates, our customers can, in turn, offer unique companion products to their primary product offerings.
As an ISO certified company, we have a robust quality management system to ensure that everything, from incoming raw materials to the final product, meets or exceeds customer requirements. We measure and inspect characteristics such as coating thickness, coating weight, residual solvents/water, and bond strength to ensure your products perform as expected. Agile and efficient, we can process most work within a two- to four-week timeframe and have the flexibility to manage rush orders for situations where time is a critical factor.
Contact us today to learn more about our coating capabilities.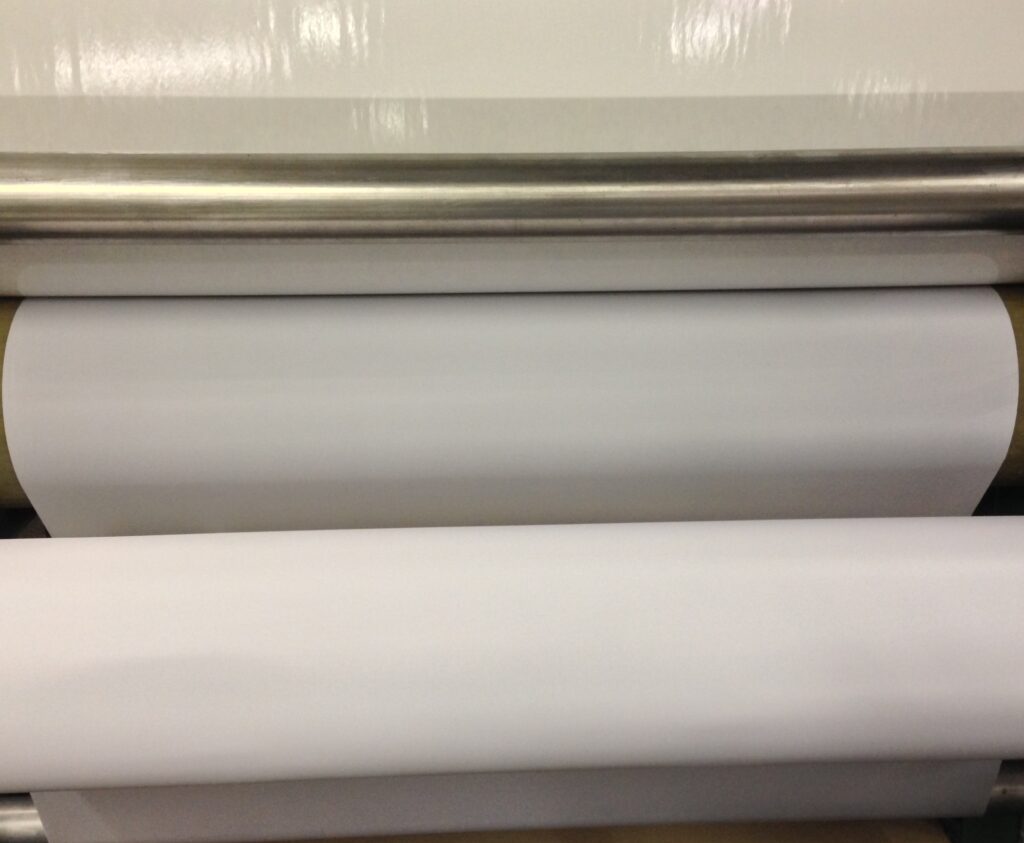 Coating Capabilities
Coating
Knife-Over-Roll
Meyer Rod
Pattern Coating
Specifications
Thickness: .001" to .005"
Width: Up to 61"
Direct Coating
Transfer Coating
Types of Coating
Pressure Sensitive Adhesive Tapes (Peel-and-Stick)
Anti-Fog Coatings
Custom Coatings
Water Borne
Solvent Based
Applications
Custom Peel-and-Stick Tapes
Laminating Tapes
Hood Visors
Appliques
Materials
Silicone Coated Release Papers
Silicone Coated Release Films
Papers
Films
Foams
Fabrics
Non-wovens
Testing Ability
Coating Thickness
Coating Weight
Residual Solvents
Bond Strengths
Production Volume
500 Yards and up
Draw-downs
Pilot Runs
Process Qualification Test Runs
Lead Times
Quoted on Job by Job Basis
(Normally 2 to 4 Weeks)
Emergency Services Available (When required)
Additional Information
Industry Focus
Automotive
Trucking
Medical
Orthopedic
Advertising Specialty
Sports Equipment
Applique
Construction
Industry Standards
ISO 9001:2008 Certified
Materials Offered to a variety of:
Mil-Specs
ANSI
ASTM
Offered Certifications:
RoHS
Berry Compliance
NAFTA Certification