Thermal/Acoustical Insulation Composite for Trucking & Automotive
We specialize in providing innovative and creative solutions at Dal-Bac Manufacturing Co., Inc.. Our high level of engineering expertise and advanced equipment allow us to fulfill our customers' most challenging requirements and ambitious goals. In the project illustrated here, one of our longtime customers approached us to assist in creating a new kind of thermal/acoustical insulation composite. This trucking/automotive industry client wanted a type of insulation that would utilize as much empty interior space within itself as possible, resulting in improved overall insulating properties and a product of less weight.
To begin the process, we applied an adhesive to both sides of 0.050" thick bulk rolls of closed-cell polyethylene foam at a 1.7-pound density. This adhesive could be reactivated with heat, but did not hold tack in ordinary ambient conditions. We then removed 64% of the weight of these rolls of foam by cutting square openings measuring 4" x 4", and returned these rolls to the lamination process to incorporate them into a multilayered insulation composite. This was performed by feeding the rolls into our fusing laminator in between a layer of .375" open-cell polyurethane foam and a layer of 0.001" metallized polyester film. This step included reactivating the heat-reactive adhesive originally applied to the 0.050" polyethylene foam. The composite of the outside layers and the internal stratum of empty space provided thermal/acoustical insulating properties with enhanced performance and reduced weight.
While this process created an excellent thermal/acoustical insulation composite, the procedure inspired an enhancement in production that was able to provide substantial savings by addressing the 4" x 4" slugs that were removed from the interior foam core by eliminating them entirely while still retaining the empty space. This interior layer was made with a 48" wide roll; instead of removing squares, we cut staggered rows of 7.5" slits on 1" centers across the width of the web. By pulling outward, the width was expanded to 75" and opened up 4" x 4" bias-cut rectangular holes. This process added nearly 50% additional value to the foam core and adhesive layers, eliminating the waste of removal and the costs of recycling the square openings in the original process.
Our extensive experience in working with advanced thermal fusing allows us to provide some of the industry's most creative and cost-saving solutions. To learn more about this project or to find out how our team can put their skills to work for you, please contact us directly.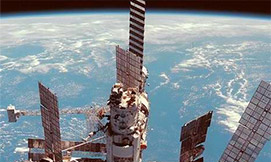 Thermal/Acoustical Insulation Composite Project Highlights
Project Description
Thermal/acoustical insulation composite
Capabilities Applied/Processes
Primary:
Thermal Fusing
Secondary:
Steel Rule Die Cutting
Equipment Used to Manufacture Part
Fusing laminator and hydraulic die cutting press
Overall Part Dimensions
Continuous rolls @ 48" wide
Tightest Tolerances
Die cut dimensional tolerance of + or - .010"
Material Used
½" thick, 1.7 lb., closed-cell polyethylene foam, polyamide and polyester hot-melt web adhesives, .001" metallized polyester film and 3/8" thick 1.8 lb., open-cell polyurethane foam
Material Finish
Uniformly rewound for downstream processing
Industry for Use
Trucking/automotive
In Process Testing/Inspection Performed
Temperature and speed monitoring
Delivery/Turnaround Time
4 weeks
Delivery Location
North Texas
Standards Met
Thermal and acoustical performance