Flame lamination is a very effective method for bonding flexible foams and certain non-wovens to a variety of other substrates, including fabrics, films, and papers. At Dal-Bac Manufacturing Co., Inc., we offer flame laminating services as a low-cost and eco-friendly option for creating single-sided, double-sided, or multilayer laminations measuring up to ¾" in thickness.
The flame lamination process involves passing foam (and flame laminable grades of other materials) over an open flame, which creates a thin, tacky layer of melted polymer on the foam surface. A strong bond forms between the foam and the substrate when secondary material is quickly brought into contact with the tacky surface under controlled tension and pressure.
Our facility houses two flame laminating machines that can bond flexible materials measuring up to up to 80" in width in a roll to roll fashion. Process flexibility allows us to laminate the same or different materials to opposite sides of the foam to create a double-sided lamination, where the foam is sandwiched between any combinations of decorative or technical materials.
One of the primary advantages of flame lamination is that no adhesive is needed. In addition to cost savings, avoiding the use of adhesives eliminates the risk of adhesive creep and certain types of bond failure, and the materials are easier to recycle. For some composites, a very thin layer of foam can be used as a bonding agent between two materials. This allows us to take advantage of the desirable characteristics of flame lamination, without adding any appreciable thickness.
Used most often in conjunction with open-cell polyurethane foams (both polyester and polyether based), flame laminating lends itself to numerous soft goods applications, such as orthopedic padding, thermal insulation components, acoustic insulation products, automotive interior components, and more. Contact us today to discuss whether flame lamination is the best option for your product. We are an ISO certified company and have experts on staff that will consult with you on materials and other aspects of your project.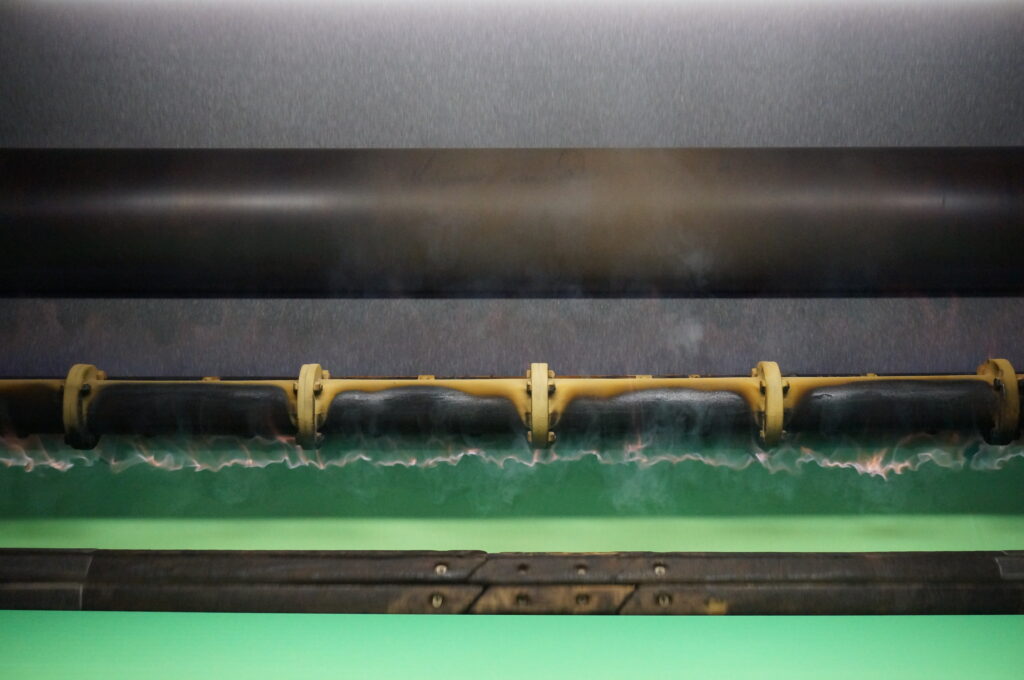 Flame Lamination Capabilities
General Capabilities
Bond Flexible Materials
Roll-to-Roll
Laminating Methods
One Side
Two Sides
Multilayer
Applications
Thermal/Acoustical Insulation Components
Orthotic Appliance Components
Flexible Beverage Insulating Laminates
Automotive Headliners
Costumes
Intimate Apparel
Medical Disposables
Specifications
Width: Up to 80"
Length: Continuous
Thickness: Up to .75"
Laminating Materials
Open-Cell Polyurethane Foams – both polyether and polyester based
Lofted PET Non-wovens
Knit and Woven Fabrics
Films
Cross-linked Polyethylene Foams
Non-wovens
Expanded Reinforced Vinyls
Production Volume
Prototypes and samples
Low to High Volumes
Process Qualification Test Runs
Lead Times
Quoted on Job by Job Basis
(Normally 2 to 4 Weeks)
Emergency Services Available (When required)
Additional Information
Industry Focus
Automotive
Trucking
Medical
Orthopedic
Advertising Specialty
Sports Equipment
Applique
Textile
Packaging
Industry Standards
ISO 9001:2008 Certified
Materials Offered to a variety of:
Mil-Specs
ANSI
ASTM
Offered Certifications:
RoHS
Berry Compliance
NAFTA Certification