At Dal-Bac Manufacturing Co., Inc., our customers are our greatest asset. Our business philosophy has always been to provide our clients with quality services that bring convenience to their supply chain. To meet the diverse needs of our customers, we offer several auxiliary services, including die cutting, slitting, and narrow-web screen printing.
With two wide flatbed hydraulic die cutting presses and three rotary die cutting presses, we can convert bulk materials into custom shapes and sizes. We have the resources to build precision steel rule dies and engraved dies that hold finished piece tolerances as close as ±.005". Our die cutting presses handle sheet sizes measuring up to 30.0" in length x 30.0" in width x 1.0" in thickness, while our rotary equipment handles continuous rolls of material up to 7.0" in width and 0.25" in thickness.
Offered as companion converting process to our coating and laminating solutions, we can slit bulky rolls into shorter and narrower rolls according to your needs. Using rotating blade and other slitting-rewinding methods, we can transform your large rolls into more manageable, production-ready sizes. Narrow slitting capabilities allow us to create rolls down to 1.00" in width from materials up to 0.5" in thickness. We are also equipped for narrow-web, continuous roll screen printing. Our single color press features a 3.0" width capacity, and we custom burn screens in-house from your supplied artwork.
We continually pursue opportunities to adapt our process to fulfill customers' needs. When evaluating the best approach to accomplish a project, we are open to expanding the limits of our current capabilities to satisfy a customer specification. We give due consideration to equipment acquisition and see it as an investment in ourselves, which has helped us grow our business. As an ISO certified company, we put the same emphasis on quality as we do for our core capabilities.
For more information about our auxiliary services or to discuss your custom application, contact us today.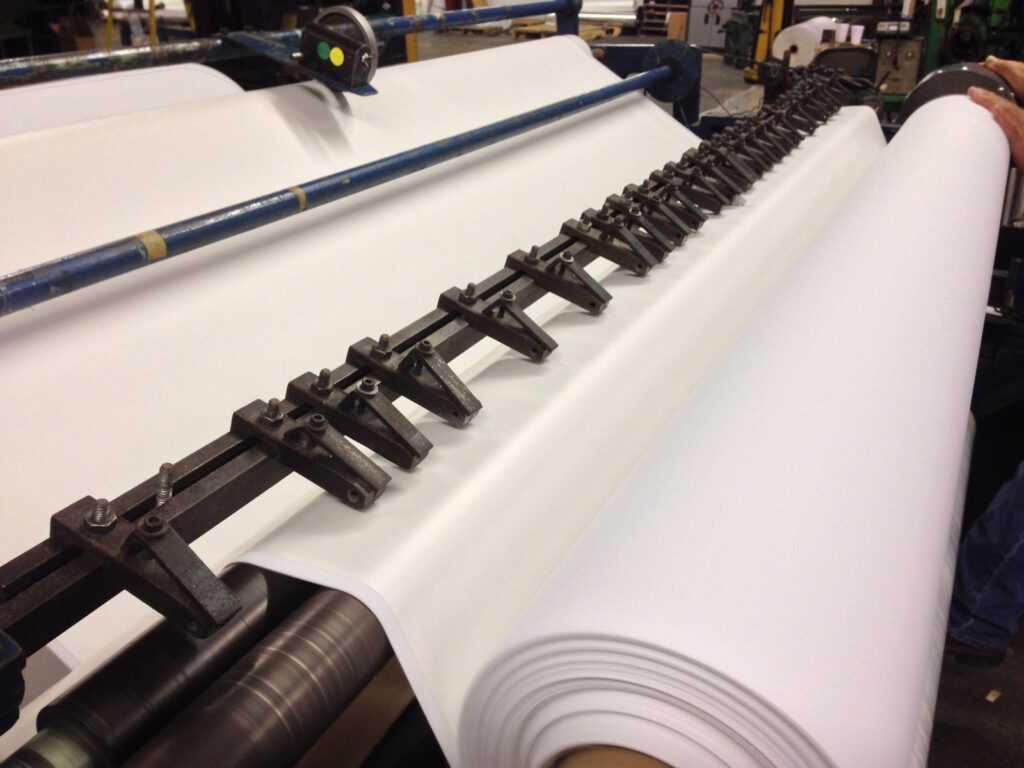 Secondary Capabilities
Auxiliary Services
Slitting
Die Cutting
Rotary Die Cutting
Narrow Web Screen Printing
Slitting
Baloney Slicing
Razor Slitting / Rewinding
Die Cutting
Steel Rule Dies
Engraved Dies
Flatbed Clicker Presses
Continuous Rotary Die Cutting
Narrow Web Screen Printing
Continuous Roll-to-Roll Printing
Specifications
Slitting:
Width: As narrow as 1.00"
Thickness: Up to 0.5"
Tolerance: As tight as +/- .06"
Die Cutting:
Width: Up to 30"
Length: Up to 30"
Thickness: Up to 1"
Tolerance: As tight as +/- .005"
Rotary Die Cutting:
Width: Up to 7"
Length: Continuous
Thickness: Up to 0.25"
Tolerance: As tight as +/- .005"
Narrow Web Screen Printing:
Width: Up to 3"
Length: Continuous, Single Color, Custom Screen Burning
Materials
Papers
Films
Foams
Fabrics/Textiles
Non-wovens
Pressure Sensitives Substrates
Expanded Reinforced Vinyls
Production Volume
Prototypes and samples
Low to High Volumes
Process Qualification Test Runs
Lead Times
Quoted on Job by Job Basis
(Normally 2 to 4 Weeks)
Emergency Services Available (When required)
Additional Information
Industry Focus
Automotive
Trucking
Medical
Orthopedic
Advertising Specialty
Sports Equipment
Applique
Industry Standards
ISO 9001:2015 Certified
Materials Offered to a variety of:
Mil-Specs
ANSI
ASTM
Offered Certifications:
RoHS
Berry Compliance
NAFTA Certification